Dust, Dirt and Water Damage: What's happening to your Home Movies?

Growing up as a kid, we all remember our parents with the camcorder. Baseball games, dance recitals, birthdays, and Christmas, pretty much any event they would pull out the camera. Throughout the years formats would change or they'd come out with a new camera. Now you have a collection of VHS tapes, Hi8 tapes, or any number of different formats. Chances are unless you still have a working VCR or the specific camera, you have no way to enjoy your family videos. What's even worse, the longer those tapes or films sit around the more dust, dirt, and water damage can occur. This will eventually deteriorate and ruin your family's memories and you could lose them forever. For both playback and protection, it is important to transfer your home movies to an updated digital format.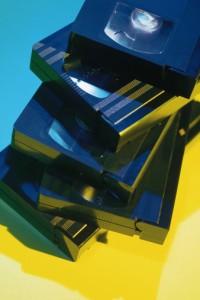 VHS and Camcorder Tapes
VHS and other camcorder tapes such as Hi8mm, MiniDV, or VHS-C have a tendency to collect a significant amount of dust. Regardless of where they are stored, the longer these types of tape sit the more dust that collects on the tape. This can cause playback and tracking issues that will only deteriorate over time. Additionally, any amount of water or moisture can warp the tape. This will cause further playback issues and could result in the total loss of audio or video.
8mm and 16mm Film Reels
Typical 8mm and 16mm films can be up to 70-80 years old, especially 16mm film. These types of home videos are very delicate and require a very clean and dry storage area. Water and moisture damage can cause the film to become particularly brittle. This not only makes the film nearly impossible to play but will also cause the film to actually break. Due to the age and potential usage over the years, these films are likely covered in dust, dirt and debris. Regardless of how you store these films, cleaning will be required.
Advanced Media Integration Can Transfer Your Home Movies
Advanced Media Integration is your complete source for Video, Film, Slide, and Photo Transfers. Utilizing the latest technologies, we will preserve your family memories for years to come, or simply transfer your tape to a usable format. Contact us today and our friendly and knowledgeable staff will work with you to ensure that you receive the best quality transfer possible.
VHS and VHS-C
Digital8 and Hi8

Betacam Formats

DVCam

Mini DV

DVC Pro

HDV

Audio Cassette & Vinyl Records

Photos and Slides

Super 8mm, 8mm, and 16mm Film