Tips for setting up your artwork for CDs, DVDs, labels, sleeves, or inserts
Setting up and submitting your artwork for your upcoming CD, DVD or Blu-ray project can often be challenging and confusing. Incorrect size, lack of bleed area, and low resolution files can all negatively affect your disc face labels and printed inserts or sleeves. By following a few guidelines and tips, providing the correct artwork can save you valuable time and ensure your project turns out as expected.
Use the Correct Template
By using the appropriate template to design your artwork, you will make certain that the sizing for your project is accurate. The specific templates for each component such as disc labels, printed inserts, DVD wraps, and sleeves, are located in the Template section of our website. Simply download the proper template and use this to begin building your project art files.
Leave Room for the Bleed Area
Once you have downloaded the correct template and have begun creating your artwork, make sure you leave a suitable bleed area. The bleed area is the section of your artwork that will be cut or trimmed during production. The bleed area is indicated in each template with a pink or red line. It is important to stay within the boundaries of the bleed area or some components such as text, photos, or graphics can get cut off. Any type of text, pictures or graphics should be located within this area. Additionally, whatever type of background image is used will need to extend past this bleed area. This will ensure no white edges appear on your project.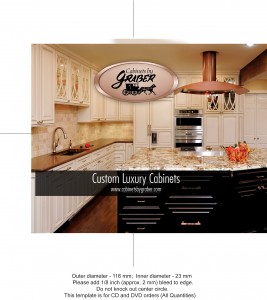 Use High Resolution Pictures
Using the correct file and image resolution is possibly the most important aspect that affects the overall quality of your project. For the best results, we recommend that the file resolution is at least 300 dpi or higher. This size of file will provide the most accurate and clear image resolution for all of your printed components. Images used from services such as Facebook are typically 72 dpi or smaller and will print very low quality.
If you have any issues or questions call us at 260-428-2698 or send us an email at info@advancedmediaintegration.com